Welcome to our monthly chart list and in this month of May, we have exciting new songs that were extraordinary, selected from this month releases. In this month of May, we present them to you for your listening, inspiration and collections.
Picked from a list of songs that was released between First of May till end , here are our best picks from songs available on Allbaze and in the industry.
No1 Tim Godfrey Okaka
Rox Nation's CEO,Tim Godfrey and his multiple-Award-winning crew "Xtreme" releases a new single titled 'Okaka' today, exactly three weeks away to His annual concert, one of the biggest Music gatherings happening in Africa themed "Fearless Rebirth"
The song "Okaka" is a song that expresses the greatness of God, reminding us of just how beautiful and powerful our God is. When we sing "Okaka", we proclaim God's ultimate supremacy & sovereignty, as he is gloriously and absolutely eternal!
The song is one that should not be missed as it sets you in the mood of worship almost immediately.
Listen, Enjoy and Share!
[ddownload id="6371″]
No2. Mike Abdul Ft. Tope Alabi – Toh Marvelous
Sensational Gospel Minister and songwriter, Mike Abdul drops the Alujo Mix of a former released single off his previous project, "Korede" titled "Toh Marvelous" featuring prominent Gospel minister, Tope Alabi.
A resounding request for the redo of a record is a resplendent recognition of respectability… In short, when a song is good, you got vibes to do it again. – Mike Abdul
On the account of this, the industry brings Mike Abdul and Tope Alabi together again on 'Toh Marvelous' in a swanky new mind-blowing and thrilling mix that's sure to get you doing a new dance.
'Toh Marvelous' is a blend of beautiful melody sung in the indigenous Yoruba language simply speaking of the marvelous works of God and His goodness!
Toh Marvellous Alujo Remix is produced by WOSSA
[ddownload id="6341″]
No.3 Jahdiel – When You Say Yes
Popular gospel music artist and songwriter JAHDIEL is here once again with a brand new song for everyone this season. The contemporary and alternative artist is known for her inspiring sounds that cut across all ages, her music takes various forms with an alternative vibe that sets her apart.
Her previous releases such as "My Light" (audio and video) and "Winning" and others from last year 2018 paved the way for more amazing experiences, including events, tours and music that same year. But this 2019, the artist is scheduled to release some of her best works and projects and with a lot of planning and preparation she is definitely about to release something unexpected. But while we anticipate, she sets it off the release of a new single this May.

"When You Say Yes" is her new just released single which is her first release this year 2019. Indeed when Jesus says yes no one can say no. Experience Jesus as you worship with this new song by Jahdiel.
Download and be inspired
[ddownload id="6337″]
No.4 MaryJane Rise2Worship
After the successful release of her debut single Titled SATISFIED , Gospel music sensation MaryJane comes through this time with a Mind Blowing
Album titled "Rise2Worship" Maryjane is a gospel reggae artist whose voice and the lyrical content is so soothing and captivating and the same time, Spirit-filled. since she released Her latest single Satisfied, Her fans all over the world has been requesting the full album, on her words she said "To My fans and lovers of Gospel reggae music all over the world can now buy My album online at iTunes, Amazon and many other online stores.
fanlink.to/maryjanerise2worship
No5 You Are God By Janess
A fast growing Gospel music minister/songwriter/and worshiper "JANESS" is out with her brand new  single titled (YOU ARE GOD)  an unfeigned worship which reveals the true nature and the beauty of God.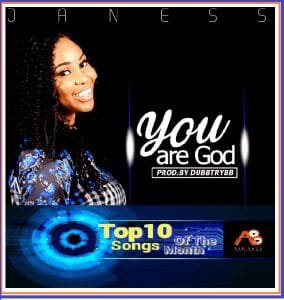 "According to her words God is completely sovereign. God is infinite in wisdom. God is perfect in love. God in His love always wills what is best for us. In His wisdom He always knows what is best, and in His sovereignty He has the power to bring it about.God never ends anything on a negative; God always ends on a positive.
 Janess released her first single Early 2018 and two other new singles same year thereafter proceeded with her music career relentlessly and has pushed harder beyond boundaries and gradually becoming a household name in the gospel music industry. You Are God was (Prod. By DubbTrype)
[ddownload id="6238″]
No.6 Jesus Is The Way Ft. James Okon -GodsTime Promise
Budding gospel minister and blogger, Godstime Promise features Nigerian born South Africa based award-winning music minister, James Okon, as he celebrates his birthday with a new song titled "Jesus Is The Way" produced by Femi Okunuga.
Celebrant GodsTime shares that "When Jesus mentioned that "I am the way" in the scriptures, What does that mean? It means that He if you follow Him and you join hands with Him, you obey Him and His word, you will find your way to anything you need in life.
He is the way to whatever you need, He is the way to salvation. He is the way to healing, He is the way to prosperity. Anything you need in life, Jesus is the way there. He doesn't just prepare the way or provide the way; He is The Way. Come to him now and be saved."
The gospel minister is a member of one of the largest church in Nigeria, The Redeemed Christian Church of God, and he is very committed to the furthering of the gospel of Jesus Christ, Salvation and Eternal rest in God's Kingdom.
Listen, Download and Share with colleagues.
[ddownload id="6328″]
No.7 Ada – Like Dis
[ddownload id="6251″]
No.8 Tkeyz Jesus Did It
[ddownload id="6271″]
No.9 You Are God – Gbolly Bee
[ddownload id="6374″]
No.10 Uche Davies – Heaven Bow Before You
[ddownload id="6121″]
There you have them, make your month much more interesting and uplifting with these listed songs and downloads. See you next month.
Follow us on social media at :
https://www.facebook.com/allbazetv
https://www.facebook.com/allbazeradio
https://twitter.com/allbazeradio
https://www.instagram.com/allbazetv