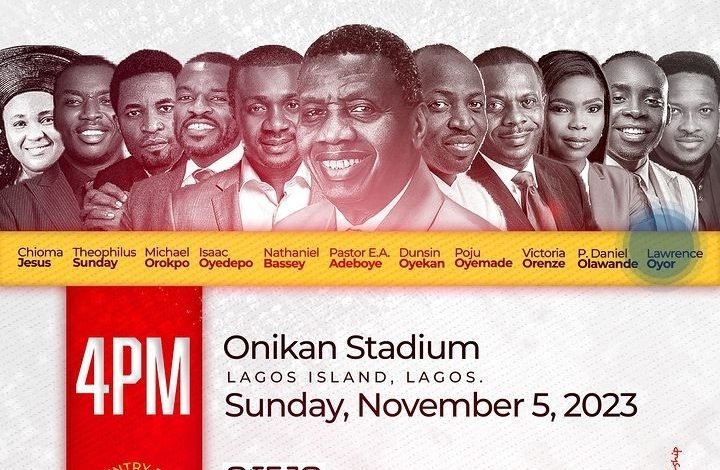 The Outpouring Lagos – Revival • Worship •Prayers
"The Outpouring Lagos " gospel outreach and concerts by Dunsin Oyekan holds this Sunday 5th November 2023. Here are the basic information you need to know about the event and how to stream it live
The Outpouring Lagos 2023
What Is the Outpouring All About?
"The Outpouring" is hosted by the anointed music minister Dunsin Oyekan and is a moment of revival, worship, and praise. This power-packed event features the presence of spirit-filled music minister across the world.
The Bible speaking in Joel 2:28 says;
"And afterward, I will pour out my Spirit on all people. Your sons and daughters will prophesy, your old men will dream dreams, your young men will see visions.
The promise of the outpouring is to everyone and this has formed the headline of The Outpouring.
Come experience the power of revival, worship, and praise.
The Outpouring Lagos Programme & Schedule.
Headline: The Promise is to Everyone.
Date: Sunday 5th of November, 2023
Time: 4 pm (WAT)
Venue: Onikan Stadium, Lagos Island, Lagos, Nigeria.
The Outpouring Lagos 2023 Host and Guest Minister/Speakers
The following seasoned gospel musicians will be ministering live at The Outpouring Canada 2023.
Host Minister: Dunsin Oyekan
Guest Word Minister:
Pastor E. A. Adeboye,
Pastor Poju Oyemade,
Apostle Micheal Orokpo,
Pastor P. Daniel Olawande,
Pastor Isaac Oyedepo,
Guest Music Minister:
Chioma Jesus,
Victoria Orenze,
Nathaniel Bassey,
Lawrence Oyor,
Where to Watch The Outpouring Lagos 2023?
To watch the Outpouring Lagos 2023, kindly engage any of the following platforms;
Or click here to watch live https://www.allbaze.com/live/