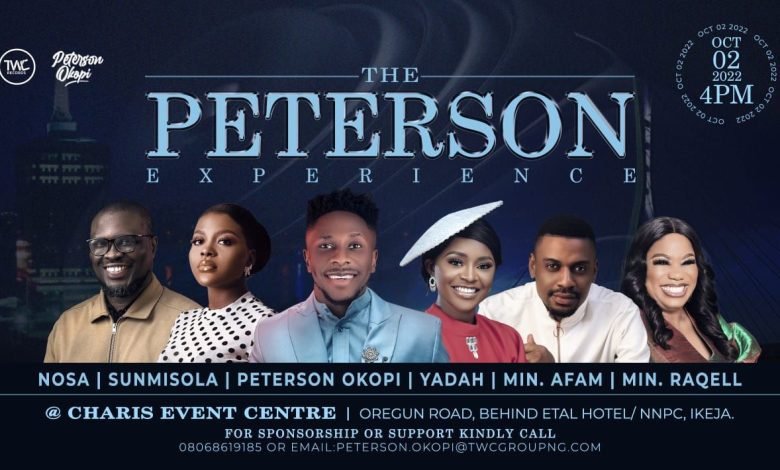 Award winning gospel recording artiste, and TWC Records signee; Peterson Okopi is set to host "THE PETERSON EXPERIENCE", a worship experience, borne out of his personal encounters and experience with God.
Minister Okopi has been a huge blessing to lives around the world with deep worship experiences on various gospel platforms. This year, Peterson Okopi decided to bring his teaming fans all around the world in a room to worship Abba in a music concert. This is going to be an experience of a lifetime.
For years now, Peterson Okopi has been dropping Hit songs back to back and great Hits like AMAZING GOD, OSUBA, NOT A SCAM, WALK AWAY, IBAGHA etc. are some of the many hits that Peterson Okopi has blessed the world with. In this concert, Peterson wants to share his music journey and experiences with his audience in an atmosphere of deep worship.
The Peterson Experience is scheduled to hold on the 2nd of October 2022 at the Charis Event Center, Oregun Road, Ikeja, Lagos, Nigeria.
The concert will be headlined by Peterson Okopi alongside top gospel music ministers like Minister Nosa, Yadah, Minister Raqell, Minister  Afam, Sunmisola, and others.
This promises to be one experience you can not recover from in a very long time. Peterson Okopi is ready to pour himself out into as many as would make themselves available for this move of the spirit, are you prepared to receive?
This concert is powered by TWC Records.