Italy beats spain [4 – 2] in penalty shootout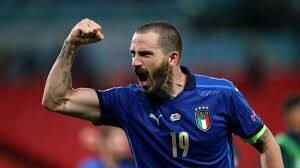 Italy beats spain [4 – 2] in penalty shootout. If you missed the match between Italy and Spain, you can catch up with this update showing Italy's 4 – 2 victory over Spain
Following a thrilling 1-1 draw at Wembley, Italy advanced to the Euro 2020 final with a penalty shootout victory over Spain which ended in (Italy🇮🇹)4 – 2(Spain🇪🇸).(The winning penalty kick was scored by Jorginho).
The whole drama started at the 60 mins mark when the Italian winger scored a superb goal by professionally curling the ball into the net giving them the upper-hand. Though that didn't last long after the Spanish attacker; Morata, tied the scores at 1-1 from bench.
After 120 minutes of play, the match finished in a 1-1 tie between Italy and Spain, sending the game to a penalty kickoff, which ended in a (🇮🇹)4-2(🇪🇸) penalty shootout.
Italy has advanced to the final of Euro 2020. Now the question is who will they be facing in the finals, will it be England 🇬🇧? or Denmark 🇩🇰?…
Comment your answer✍ in the comment box below
---