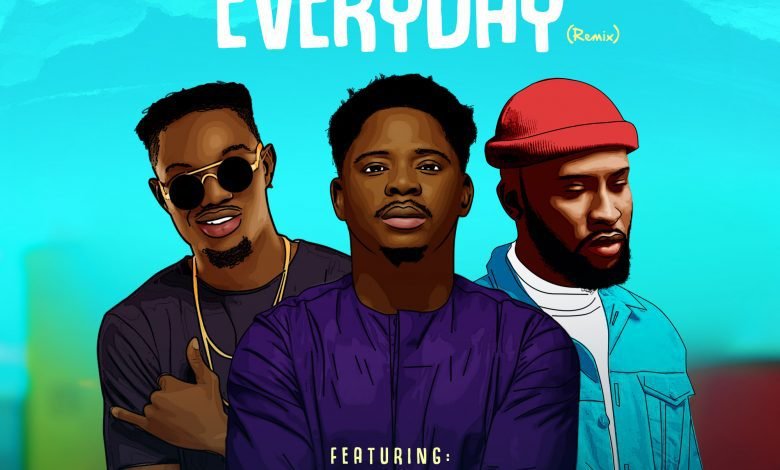 After what seemed to be a hiatus, Nigeria's fast rising Gospel artist, Folabi Nuel releases the remix of the grooviest track on his last
album
"Hunger Live". The remix features God's Favorite Baby, Limoblaze, The Radical
Believer,
Kelar Thrillz and emerging gospel act, Mannie Music.
The song meticulously produced by Ko'rale is a reflection of the urban, contemporary vibe of GenZ and Millennial listeners. It is a perfect Afro-Pop Urban song that serves as an anthem for this generation.
Leader of the new movement, Folabi Nuel expresses excitement about serving a song that resonates with pop culture which will be spread across the airwaves and remind people about the love of God that comes to us "Everyday".
Everyday (Remix) by Folabi Nuel
Lyrics
New day with a new song
Amara na kpote'm nura like a new born
Feeling soft,  this your love give me goosebumps
Nge soro gi ruo njedebe  no U-turn
Nsi ka'm koba oluoma Chukwu nge mepenu cinema
Ndu'mu na'aku offu ina e tune'm ka jikita
Iji ifunaya fichanu Mayan ka hanky
Now everything's Wellington around me like banky
Na you dey ginger me o
Everyday na you dey cover me
Your love dey remedy
Everything wey dey bother me o
Blessings follow me
I can feel it in this melody eh
E be like do re mi
All the things wey you do for me eh
Everyday
Everyday
Everyday
Everyday
Everyday
Everyday
Na your love I dey see
Everyday
Everyday
Everyday
Everyday
Everyday
Everyday
Na your love I dey see
You call me your favourite baby o
No weapons dey fashion against me o
None e go prosper against me o
Cause na you be my God
You're my daddy o
Oh no never letting go o
No eni ma ni mo
This your love is sure
It's too sure it leaves no doubt
Expels all fears
You're my confidence
Oh this type of love wey you get for me
Me I go tell them the koko
I dey feel like I just win lotto
This your love e sweet pass promo
This your love e dey chase me
Everywhere and every day
Everyday
Everyday
Everyday
Everyday
Everyday
Everyday
Na your love I dey see
Everyday
Everyday
Everyday
Everyday
Everyday
Everyday
Na your love I dey see
This love I am feeling it
The way that you hold me down
Oh yes I am feeling it
I am feeling it
I am feeling it
The way that you hold me down
Oh yes I am feeling free
I am feeling free
Everyday
Everyday
Everyday
Everyday
Everyday
Everyday
Na your love I dey see
Everyday
Everyday
Everyday
Everyday
Everyday
Everyday
Na your love I dey see
Let me see you dance yeah
Let me see you dance yeah
Let me see you dance yeah
Let me see you dance yeah
Let me see you dance yeah
Let me see you dance yeah
Oh yeah yeah New day with a new song
Amara na kpote'm nura like a new born
Feeling soft,  this your love give me goosebumps
Nge soro gi ruo njedebe  no U-turn
Nsi ka'm koba oluoma Chukwu nge mepenu cinema
Ndu'mu na'aku offu ina e tune'm ka jikita
Iji ifunaya fichanu Mayan ka hanky
Now everything's Wellington around me like banky
Na you dey ginger me o
Everyday na you dey cover me
Your love dey remedy
Everything wey dey bother me o
Blessings follow me
I can feel it in this melody eh
E be like do re mi
All the things wey you do for me eh
Everyday
Everyday
Everyday
Everyday
Everyday
Everyday
Na your love I dey see
Everyday
Everyday
Everyday
Everyday
Everyday
Everyday
Na your love I dey see
You call me your favourite baby o
No weapons dey fashion against me o
None e go prosper against me o
Cause na you be my God
You're my daddy o
Oh no never letting go o
No eni ma ni mo
This your love is sure
It's too sure it leaves no doubt
Expels all fears
You're my confidence
Oh this type of love wey you get for me
Me I go tell them the koko
I dey feel like I just win lotto
This your love e sweet pass promo
This your love e dey chase me
Everywhere and every day
Everyday
Everyday
Everyday
Everyday
Everyday
Everyday
Na your love I dey see
Everyday
Everyday
Everyday
Everyday
Everyday
Everyday
Na your love I dey see
This love I am feeling it
The way that you hold me down
Oh yes I am feeling it
I am feeling it
I am feeling it
The way that you hold me down
Oh yes I am feeling free
I am feeling free
Everyday
Everyday
Everyday
Everyday
Everyday
Everyday
Na your love I dey see
Everyday
Everyday
Everyday
Everyday
Everyday
Everyday
Na your love I dey see
Let me see you dance yeah
Let me see you dance yeah
Let me see you dance yeah
Let me see you dance yeah
Let me see you dance yeah
Let me see you dance yeah
Oh yeah yeah
For bookings, contact [email protected]. | @folabinuel