Event
Event:: Word Conference 2018 At House On The Rock | 2nd – 6th May 2018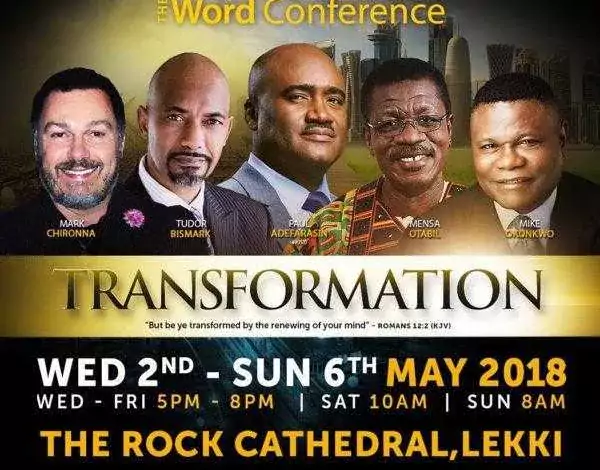 Transformation
transfəˈmeɪʃ(ə)n, ˌtrɑːnsfəˈmeɪʃ(ə)n, ˌtranzfəˈmeɪʃ(ə)n, ˌtrɑːnzfəˈmeɪʃ(ə)n
noun: a marked change in form, nature, or appearance.
The cliché holds true that the only constant thing in life is change. Change is an intrinsic part of the universe; everything and everyone undergoes some sort of evolution and alteration in their composition during the different phases of their lifetime. Change is so critical to the existence of every man that their ability to survive and thrive hinges on it…
Transformation doesn't imply a mere modification or change in status quo, form or function; transformation is a process that brings about a complete departure from the status quo ab initio such that the constitution of a person or thing before the process is radically different from the original composition.
Nothing brings the desired transformation to a person's life than the creative Word of God. This is because when God speaks, He is not merely communicating but essentially impressing upon and impregnating the human mind with the seeds of possibility that can take a prisoner to the palace, take a man from the guttermost to the uttermost and make the least likely become the most mighty.
Transformation is when the acorn becomes the oak tree, when the stump of a tree ends up in a sprawling edifice as a piece of delightful furniture or when the egg becomes the adult butterfly.
From Wednesday, 2nd May 2018 to Sunday, 6th May 2018, House On The Rock, Lekki, Lagos will host the 2018 edition of the Word Conference – TRANSFORMATION! This Transformational Conference comes at such a time when there is dire need to experience a change of status quo in the different phases of our individual and collective lives.
Join Bishop Mike Okonkwo, Dr. Mark Chironna, Bishop Tudor Bismark, Dr. Mensa Otabil and the Conference Host, Paul Adefarasin – the Metropolitan Senior Pastor of all House on the Rock, for a life-changing 5-day Conference! Music ministrations by Nathaniel Bassey, Onos, Micah Stampley and Eben.
It holds 5pm daily from Wednesday to Friday, on Saturday by 10am with a special session exclusively for men immediately following. Then on Sunday for a Super Celebration Service by 8am. It is your time to experience real transformation! #WC2018
Watch Video To Find Out More: