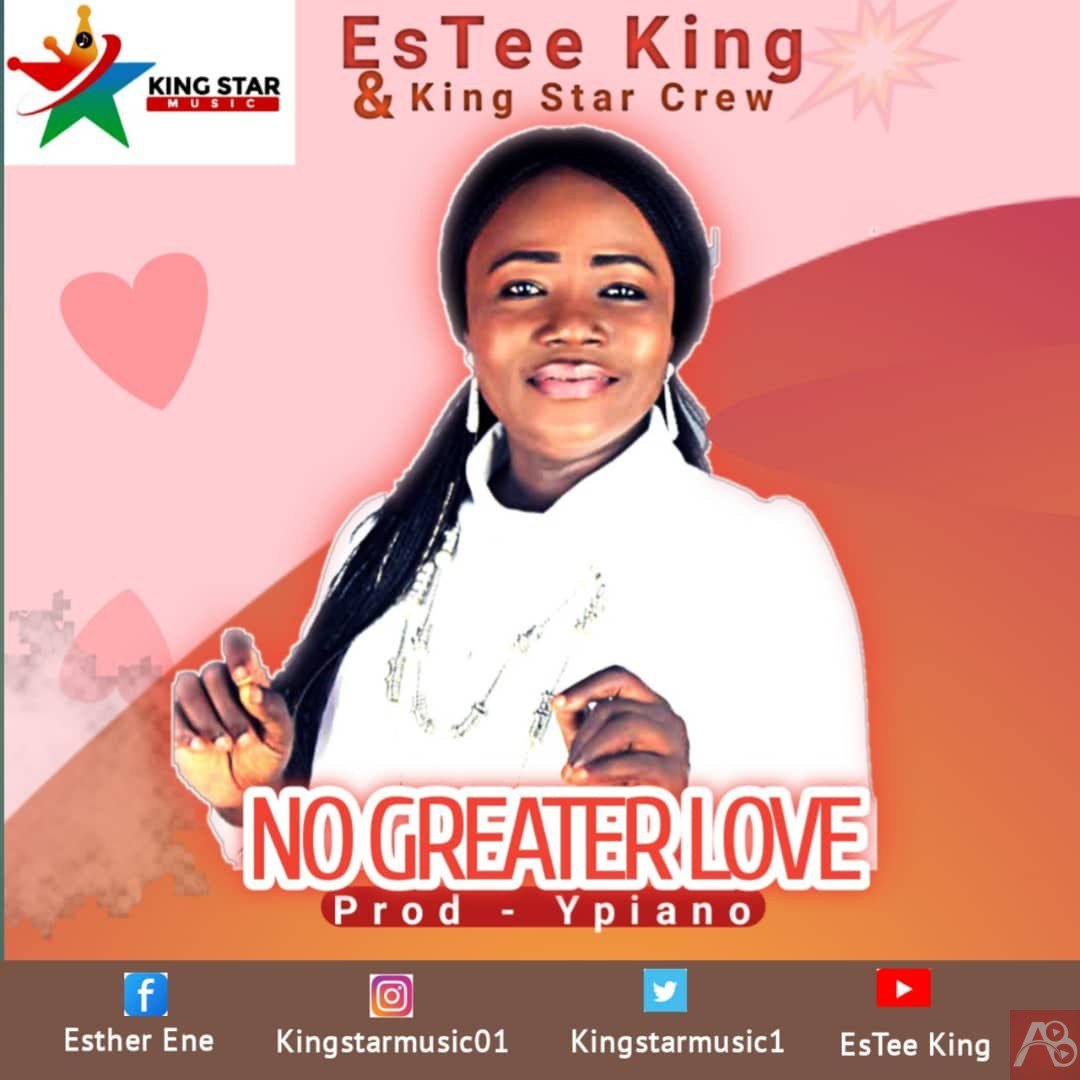 Gospel Music Minister Evangelist (Dr) Esther Ene well known as EsTee King releases a brand new single titled "No Greater Love", available for download on all major digital platforms today.
EsTee King is a seasoned vocalist, the Director of King Star Music Crew, a chartered chemist-cum-gospel artiste with a record of great songs including anthems to her credit. She has a divine mandate to touch lives.
The single "No Greater Love" is released in the spirit of Easter season which coincidentally aligns with her birthday today, April 21. It is the very love that made the Lord Jesus Christ to empty himself of his glory. He came in human form and died for the lost world of sin in order to reconcile man from his fallen state to God. He paid the ultimate price on the Cross of Calvary and now we, the redeemed, are privileged to be called "His very own". His resurrection is what defines the Christian faith.
The single is very inspiring and is a reflection of God's love. It calls for intimate relationship with God on the part of human in return, for His unfailing and matchless love. Above all, "No Greater Love" seeks to turn souls back to God.
John 15:13; Rom.8:38-39; Is. 45:22; John 16:33
MARANATHA!
NO GREATER LOVE
Thank you Jesus!
Greater love hath no man than this, that a man laid down his life for his friends
(1) It's your love that has brought me through
Years of many trials, twists, and turns
You were near my heart to cheer, Oh, Oh
You've been faithful, I'm thankful Lord
For your unfailing love that endures forever more
Refrain
(Greater love hath no man than this)
No, No greater love than this
(No, No, No)
No, No, greater love than this
(A greater love)
A perfect love
(A perfect love)
And a priceless love
None compares
(None compares)
No ( No, No, No, No)
No, greater love than this I've ever known.
(2) It's your love that has rescued me
When no one else came around
Lord, your love was always there Oh, Oh
I am grateful, I'm thankful Lord
For your unfailing love
That will last forever more
Refrain
(No, No, No)
No, No greater love than this
(No greater love)
No, No, greater love than this
(No, No, No, No,No)
(A perfect love)
A perfect love
And a priceless love
None compares
No, No greater love than this
(No greater, No greater, No greater, No greater)
I've ever known
You've been good
I worship you
You've been awesome
I magnify your name
You are the reason
That I live
But for your love Lord
I would be lost
Only you deserve my praise
Refrain
No, No greater love than this
(No greater, No greater)
No, No greater love than this
(No, No, No, No)
(A perfect love)
A perfect love
( Priceless love)
and a priceless love
None compares
(No, No)
No, No greater love than this
(No greater, No greater love)
I've ever known
Look to the Love
Cling to that Love
Stay in the Love
Dwell in the Love
Look to the Love
(Cling to the Love)
Cling to the Love
(Stay in the Love)
Stay in the Love
(Dwell in the Love)
Dwell in the Love
(I challenge you look)
Look to the Love
( Jesus is the Love ,cling to Him)
Cling to the Love
( I say stay, stay in the Love, Oh, Oh)
Dwell in the Love
(What a matchless Love!)
Look to the Love
(Cling to the Love)
Cling to the love
( To that Love)
Stay in the Love
( I say stay there, just stay there)
Dwell in the Love
Look to the Love
(Look to the Love)
Cling to the Love
(Cling to the Love)
Stay in the Love
(I say stay there, just dwell)
Dwell in the Love