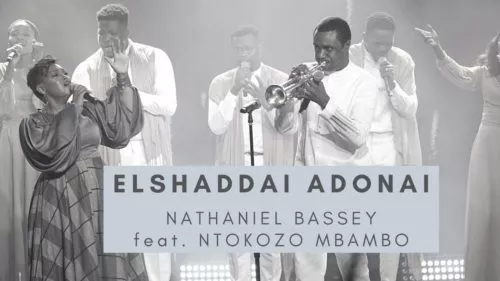 International Gospel Musician Nathaniel Bassey releases yet another video titled "Elshaddai Adonai" featuring South Africa gospel diva, Ntokozo Mbambo.
Following Nathaniel Bassey's Instagram post, he writes, "Over the years, The Lord by His Grace has taught me, through different channels the operation of songs in our kingdom.
As an instrument of Thanksgiving, Praise, Worship, as an avenue to facilitate fellowship and intimacy, In warfare, edification, to stir up prophetic giftings and create atmospheres, in prophetic intercessions, as an avenue to effect deliverance (songs of deliverance) etc."
"This particular song I find to do many things. While it proclaims and extols the names of God helping us praise and worship, I find that it stirs me up in prayer, edifies and also creates an atmosphere for the manifest presence and consciousness of the awesomeness of God in the hearts of God's – Psalm 22:3.
For me, as I Loop this for some time, playing it back to back, God becomes magnified in my eyes. And in the words of Smith Wigglesworth, "I begin to feel a thousand times bigger." Which is essentially faith and daring for the impossible!" – he concludes.
The video is shot and directed by Lanre Esho Films.