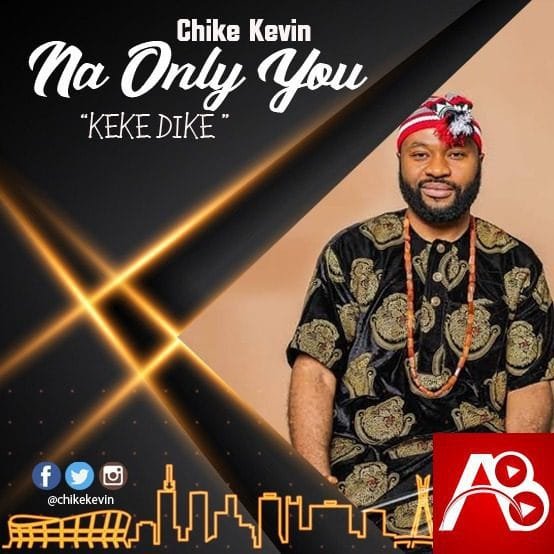 Download Na Only You by Chike Kevin
Amongst the Covid19 Pandemic, Spiritually armed and shooting for the heart, Houston based Nigerian Gospel singing sensation Chike Kevin has much to offer on his latest music single Na Only You (Keke Dike)
Chike Kevin is making the most of his time in isolation at home by recording messages of Hope in an attempt to help people balance the immense loss many are facing with the more mundane changes to daily lives
Keke Dike is an absolute gospel musical work of art. The harmony on this
project
is unbelievably heavenly,  emotionally uplifting and spiritually exhilarating
Keke Dike made
it to Nigeria Twitter Trend and is currently playing across one of the biggest Television Networks in Nigeria (Silverbird Television) and on Rotation on Lagos Television and enjoying Radio airplay on Wazobia FM Onitsha, The Reach FM 104.9FM and Darling FM 107.3FM
Owerri
In a statement his Publicist, Linda Dominguez, made available to Nigeria Gospel Boss TV, she said Kevin is spiritually armed and ready to shoot for the heart, adding that he has much to offer in his latest music single Na Only You (Keke Dike).
Kevin,
whose real name is Chike Kevin Osunkwo, stated that 'Keke Dike' is an absolute gospel musical work of art, adding that: "The harmony on this project is unbelievably heavenly and each chord has a spiritual punch to it that only an artist like me can deliver
While describing his background in an interview recently, Kevin said he's a Christian, a lover of God, people and culture. He is from Imo State, but was born and bred in Warri, but moved to the United State in 2005.
On how his song reflects on current social issues, Kevin said there's a lot going on in the world today. "I hope my song cuts deep and it's felt by people to remember what is really important, which is God and us! That's all we have got; everything else at the end of the day will not matter, whether politics, status among others. Every song I write is personal and the state of my heart.
His voice is charming; his music is refreshing and the music video compliments the song. This is gospel music at it's best. This is a young man that is well on his way to becoming a gospel music star.
According to the singer he said "The music on this project in itself is remarkably impressive.  I found myself wanting to sing along to the tunes over and over again especially the Keke Dike part.
Background: Design and Engineering. I always had a passion for music and arts.  Though, I am always singing even when I'm designing, drawing, painting or sculpting.
[ddownload id="14228″]
  Full Name: Chike Kevin Osunkwo
Stage Name: Chike Kevin
Location: Houston, TX
Hobbies: Arts & Music, Sports and more.
Follow him on socials
Instagram: @chikekevin
Twitter: @chike_kevin
+1-718-717-2970