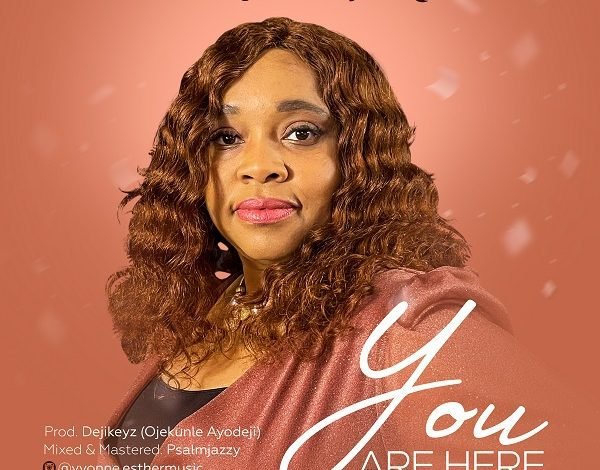 You are Here is a song that recognizes the divine presence of the Father. Reaffirming Isaiah 41.10, which says,  Don't be afraid, for I am with you. Don't be discouraged, for I am your God. I will strengthen you and help you. I will hold you up with my victorious right hand"
Yvonne Esther's strong vocal prowess conveys a deep anointing of the power of His presence.
The new single is a follow up to her debut 'You've done it before' The song remains an all-time favorite that has touched lives with it's positive, faith message.
Yvonne Esther is an international gospel artist, music minister, singer, songwriter and worship leader who's passion is to preach the gospel and promote the cause of Jesus Christ through music.
Her focus is for all nations of the world to experience the tangible presence of God in worship and not just some fleeting hype of the soul.
Her music style is a lovely fusion of gospel, contemporary christian music, r&b with an African feel.
She served as music director at Dominion Life Christian Center for over 13 years under the leadership of her father and mentor, Pastor Isaac Segun-Abugan
[easy_media_download url="https://cloudup.com/files/ivYrZoKi1Ns/download"]
Lyrics
YOU ARE HERE
Verse 1:
You are here (2 times)
Your presence fills this place
You are here
(Repeat)
Chorus:
Every heart will bless Your name
Every voice will lift You high
Singing glory to You Lord
Hallelujah to Your name
You are God, Jehovah God
You are King, Glorious King
Verse 2 (Modulate)
You're welcome here (2 times)
Your presence fills this place
You're welcome here
Chorus
Vamp:
Oh Lord we bow before You now
We acknowledge Your presence in this place
For where two or three are gathered in Your name
You promised You'd be there
Solo:
You are here (4x)
Bgvs:
You are here (4x)
You're welcome here (4x)
Have Your way (4x)