All Nigerian Gospel Music
Real To Me By Big Bolaji Now Available In Digital Stores Worldwide & As Caller Ring Back Tune | @bolajibig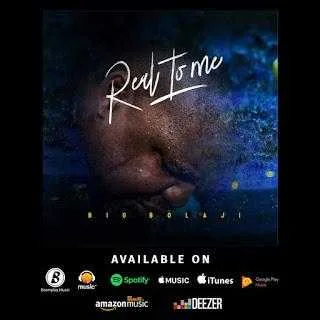 The soul lifting worship song "Real To Me" by Bolaji Olarewaju (a.k.a. Big B) has finally arrived digital stores across the world. You can also make it your caller ring back tune on all Nigerian networks!
"Real To Me" which is an expression of gratitude to the Almighty God, The One who has brought us thus far was recorded at Riversongz Studios, United Kingdom and Klinmix Studio, Ibadan, Nigeria.
"Real To Me" has an exceptional feel and is absolutely different from what most would expect from Big B. The song was produced by Sam Oliver for HOS productions. Graphics designed by Muller Visuals.
In Big Bolaji's words;
 "The summary of my journey thus far is summed up in these words 'You are so real to me'. This song was birthed out of a longing to put words together in appreciation of all that Jesus has done with this undeserving vessel. I invite you to share the warmth it brought to me."
Be sure you're ready to worship before you download this song…
Download "Real To Me" on
Make "Real To Me" your caller ring back tune on:
MTN: Text 0036776 to 4100
Glo: Text 7638017 to 7728
9Mobile: Text 8202847 to 251
Airtel: Text 7638017 to 791
Look forward to more surprising tracks from Big B!!!