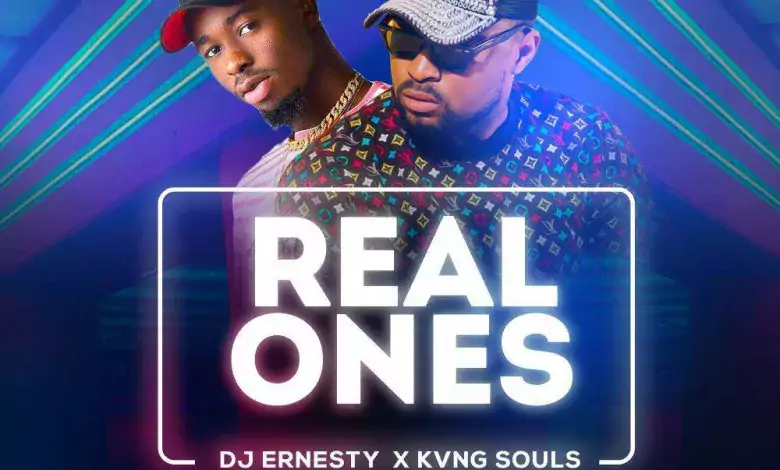 Gospel Music Disc Jockey DJ Ernesty teams up with Christian HipHop Artiste and Rapper KVNG Souls on this on titled Real Ones. 
Basically reaching out to the Unbelievers saying they are living a fake life of sin and death but we overcame the devil by the blood of the lamb and by the words of our testimonies (Rev.12:11).
This song is from the stables of KERUSSO ENTERTAINMENT and is the latest installation of THE GREAT COMMISSION 2 (THE APOCALYPSE).
LYRICS – Real Ones
Chorus:
As soon as u turn on your phone you'l get the alert
Out here plugged in with the team no doubt abou that
Me and ma hommies stay real what you know abou that
Ya'll done faking come roll with the real ones
Connected by blood we the real one (we be the real ones) yeah
We be the real ones (yeah) x2
Verse 1 :
Really the real ones is my brothers
Connected by blood 'caus we believers
We the A team yeah they all know us
We be the realer real we ain't no savages
You might catch me chilling at porch lounge on a Friday night with some real ones
Clicked up got the team strong might be lil faded on that hilsong (oh yeah)
We be the real ones
Apparently having the real fun
This the last super get a meal ticket
We the real ones better deal with it
Verse 2:
Come and get enlightened with the real ones
I bet you wanna party with the real ones
It's a Holy Ghost party with the real ones
And you know we all lit so it's A1s Day 1s
Pray in tongues till I pass out
Bank teller blood stained it's a must that I'll cash out
Oh God mehn I can't shout
Gone 3 in a roll and still am on fire
I be up in the morning, I be up in the morning
Like 6 in the morning
I be up when you yawning
I be speaking that life everyday in the morning
I can not wait for Sunday church going up on a Tuesday
If you ain't rolling with the real you headed for dooms day
Chorus :
As soon as u turn on your phone you'l get the alert
Out here plugged in with the team no doubt abou that
Me and ma hommies stay real what you know abou that
Ya'll done faking come roll with the real ones
Connected by blood we the real one (we be the real ones) yeah
We be the real ones (yeah) x2
Real Ones || AllBaze.com
[download id="1464″]