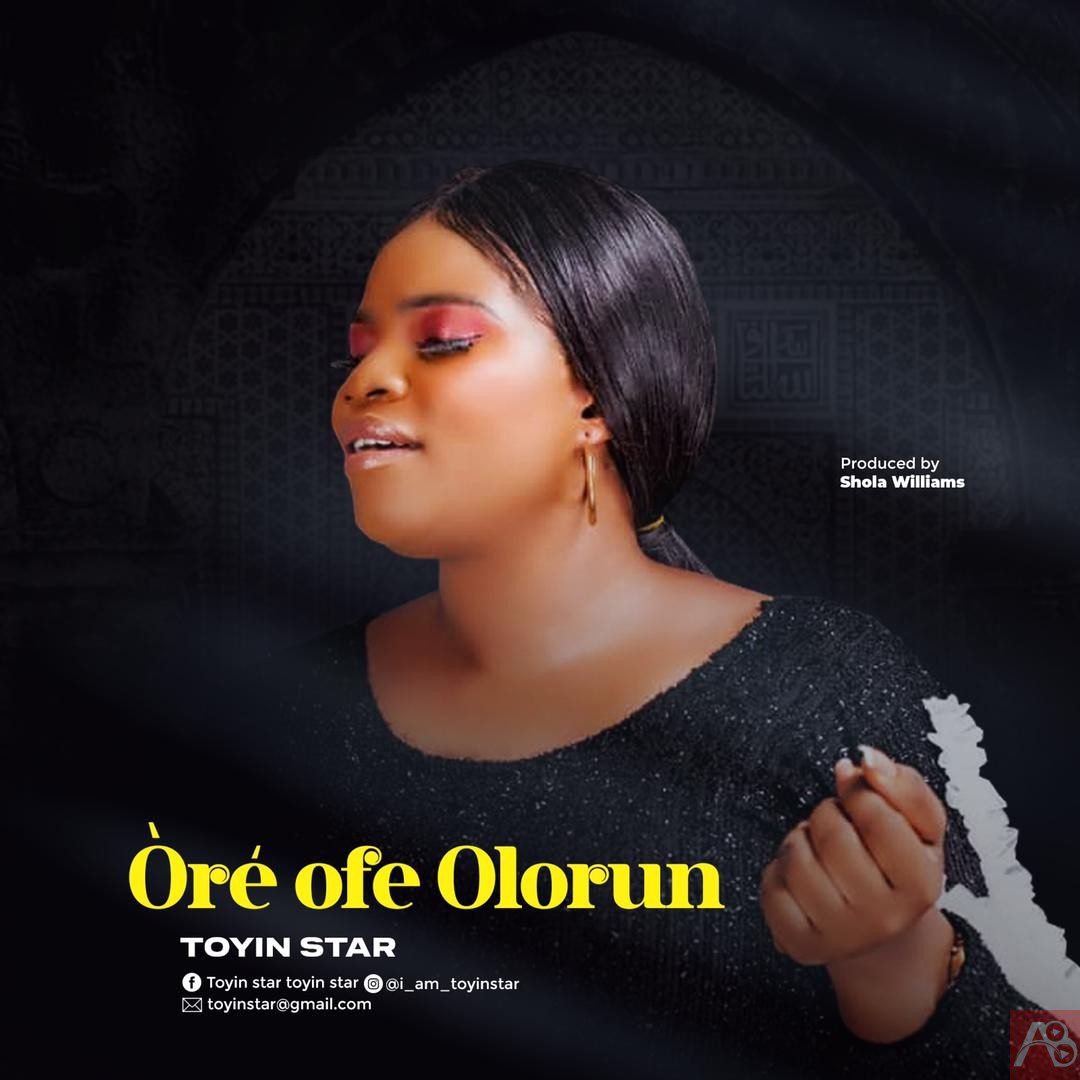 Nigeria Gospel Artist; Oluwatoyin Olatokunbo popularly known as TOYIN STAR offers up a brand new track titled "Òré ofe Olorun"  which was produced by multiple award-winning producer, Shola Williams.
The Yoruba [a language widely spoken in the Southwestern region of Nigeria] a titled song which translates as "Grace Of God" in the English language is a song filled with confirmation of God's mercies and Grace
TOYIN STAR is one of the fast-rising Gospel music stars currently rocking the music scene. She is talented and blessed with a sweet sonorous voice.
She started her music career at the tender age of 13 at the secondary school level where she use to perform at social events, churches, and concerts.
She has served as a background vocalist in Studio and live events for almost 2 decades to many artists.
She currently runs a band where she takes her role as a lead singer. Toyin Star is a native of Ondo State and she's currently based in Lagos Ikorodu.
In an interview, she talked about what inspires her songs and how she has been able to merge the role of a mother, wife, and musician especially as a mother of twins (Iya Beji) as she's fondly called by her loved ones. She's happily married and blessed with four kids.
She further advised the upcoming gospel artist to be diligent, hardworking, prayerful, and stay focused.
ORE OFE OLORUN
INTRO
How it take happen
I no no ooooo
Bawo lo se sele
I no no ooooo…
Na miracle mercy wonderful meet me for house
See
Dey Don turn me to better person
How it take happen
I no no ooooo
Vocal
Ore ofe olorun ni mo ri gba,
Anu oluwa lo gbemi duro,
Omo ole nimi
O fayo fokan mi mo ti yege
Verse 1
Iwo lo tin see
taye o fi se yeye mi,
Emi eni a bata ka firatupa mo dajitana wo faraye
Ibi aye foju sii ona ooo gbabe lo
Lati'gba ewe mi wa, aanu ni morigba
Chorus
Ore ofe olorun ni mo ri gba, Anu oluwa lo gbemi duro
Omo ole nimi
O fayo fokan mi mo ti yege
Verse 2
O bright sugbon ko lo straight irin ajo ti mo to Debi ogo grace ni Sha,
Ogo toda momi, o fiyin fun o loke orun
Iseda oke ati ile won yin ooo logo,
Emi mo pe ipinu re Simi o ju ohun ti mo nfoju ri lo
Aramoda nise re
Aramonda ni se!
Coda-
Aramoda ni, aramoda ni
aramoda nise re Oluwa -2X
Follow her on social media
Fb: toyinstar toyinstar
Instagram: i_am_toyinstar
Email: toyintoyinstar@gmail.com
Phone numbers: +2348175872048
+234816 177 1135