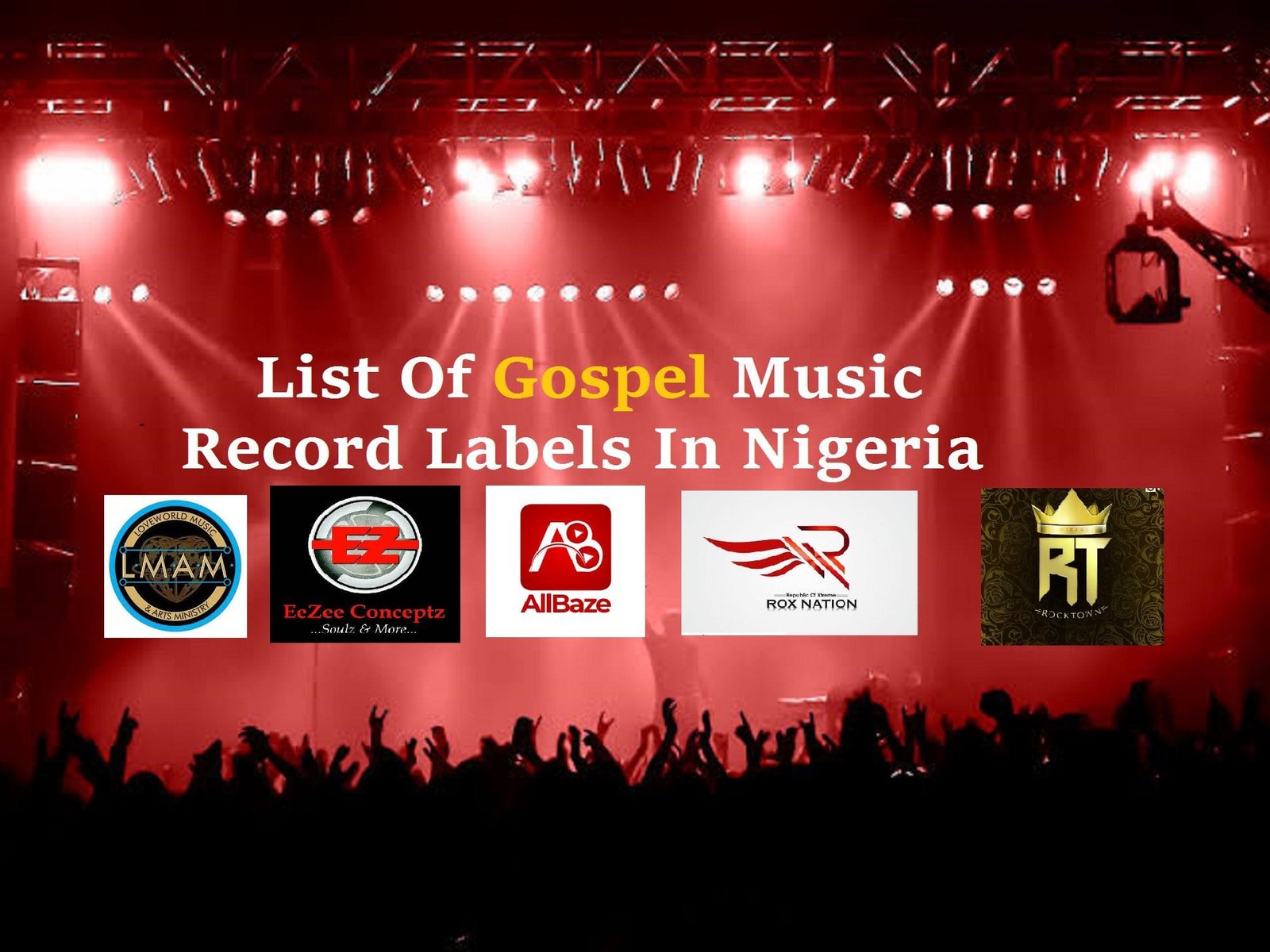 Are you looking for List Of Top Gospel Record Labels In Nigeria, Don't worry much, we got your back, in this Article you we see all Top Gospel Record Label in Africa & Best Nigeria Gospel  record label contract ……… Let's Go...
Many spirit-filled Nigerian singers, artists, and musicians have been wondering if there are Gospel Music Record Labels In Nigeria
The world like we know they say music, is entertainment and life due to its tone, lyrics and beatz.
However, the secular music world has housed many gospel artiste who really want to spread the word of God through their songs. But most atimes, they might not be allowed to mention the name of Jesus or speak in tongues due to their needs to sell.
Moreover, these became a limitation for the gospel artiste because most of them are led by the spirit of God to minister and not to sing for fun.
But other gospel centred minded believers see to these and decided to create a platform where upcoming gospel artiste can do their songs freely without any interruption.
Though AllBaze has decided to compiled these Nigeria gospel record labels for you people based on our findings.
List Of Gospel Record Labels In Nigeria
LoveWorld Music And Arts
Eezee Concepts
AllBaze Media
ROX Nation
Rock Town Records
Hammer House Records
One Hallelujah Records
Kadosh Records
Spaghetti Records
Azusa World Records
TWC Media Limited
Tehilah Records
Lakelight entertainment
The Gratitude
SonsHub Media
Faithgane Record
Rockanation
Below are Gospel Record Labels In Nigeria
LoveWorld Music And Arts

1. LoveWorld Music And Arts
Believers LoveWorld Incorporation aka Christ Embassy comprises of majority of the gospel artiste in Nigeria with the likes of Sinach, Frank Edwards and Eben coming out from the label. Other notable singers who did well in 2018 includes rapper TB1, Mr Noble, SamJamz, Rozey, Ada Ehi, Joe Praize, Chee, CSO among others all are from the Chris Oyakhilome's record label.
Eezee Concepts

2 Eezee Concepts
Eezee Tee's label Eezee Concepts has Ebezina singer, Preye Odede EeZee Conceptz is home to Chinedum crooner Mercy Chinwo, Judikay, Chris Morgan, GUC, Great Daniel, Favor, and others , Gospel Entertainment Consulting outfit that renders such services as Artiste Management, Event Management, Artiste Branding
AllBaze Media

3 AllBaze Media
If you don't know AllBaze then you must have heard about AllBaze's Website, AllBaze.com is a Gospel Music Publishing Platform that is dedicated to promoting Gospel Entertainment through music. Artistes under AllBaze Media One of the biggest kingdom blogger and worship leader GodsTime Promise and Dynamic Praiser Lilian Nneji, Powerful Songtress  Blessings Ng with so many  popular songs like: His Name Is Jesus, Ogini, Chimobimo,  Jesus Has The Final Say, in Partnership with one of the top Gospel Artists Kay Wonder
Republic Of Xtreme Nation ROX Nation

4  Republic Of Xtreme Nation ROX Nation
Newly Formed in 2017 but just can't stop going for excellence. ROX Nation has arguably produced the best gospel artiste in Tim Godfrey, the best producer of 2018 in SMJ and also the best song of 2018 in Nara. Apart from these two, the label also houses two of the strongest female vocalists in Nigerian Gospel Music in IBK and ROX nation First Lady, Blessyn. Oyel boss Okey Sokay also adds to the house of talents as his song Alpha released at the end of the year continue to bless lives.
Rock Town Records

5. Rock Town Records
Anytime you hear rich boy, all that comes to our mind is Frank Edwards but actually Rock Town is far bigger than that with singer Nkay and Gil Joe part of the label. Apart from having over 6 personally produced songs released in 2018 by Frank Edwards, the Christian baller Gil Joe also dropped a song Shackles which he did alongside Nkay also. The label might not have done much in 2018,but 2019 is another year.
Midnight Crew member and Morire crooner Mike Abdul wasn't too much in the music scene in 2018, maybe this was due to work done on Monique's album released in the year. Also label mate Adams also had a great year dropping Final Answer to celebrate the record label's sixth year and dropping a music video too
In 2017 renowned saxophonist, Kunle Ajayi, Nathaniel Bassey, Tosin Bee, Femi Okanuga, Moses Onofega, Michael Akingbala, Obabike Adeyemi known as OBA, South Africa-based James Okon, Rebecca Ogolo and Funke Akiokun were signed to The Redeemed Christian Church of God record label, One Hallelujah with much expected from the artiste. Many would have expected arguably the Pentecostal church with the biggest congregation to have a lot of popular, well known singing figure however, contrary is the case as the biggest acts from One Hallelujah in 2018 was You Are God crooner, Tosin Bee and Nathaniel Bassey who left things late with Jesus The Resurrection and Life album. Others cannot be rated as upcoming but sometime still do like one.
HHR is the definition of a couples life. Singer Eben and wife Jahdiel comes together in one label. The duo really made the year a big one with both dropping back to back hits songs and also collaborating for the second time in Oghene Doh. Apart from not having too much artiste signed to the label, the couple keeps building names for themselves and the label all alone.
  owned by  one of Nigeria  renowned Worshippers  Victoria Orenze is well known for her ability of opening the gate to Paradise when she sings. & Enitan Adaba  'Kadosh Studios: Music Production and Recording Audio/Video Space, Live Music & Sound (Events) film score, sound design (jingles) Pro-audio designing, acoustic engineering & soundProofing (churches, halls event centers). our recording studio is located in Victoria Island, Lagos, Nigeria. Kadosh Studios is possibly the most equipped in Lagos Nigeria. Our equipment and gears provides the best recording quality
One Christian label that emerged in 2018 was Bro D's Azusa World Record. The label kick-start it's projects by signing 3 major artistes which includes the voice in Tim Godfrey's Na You Be God Chioma Odimba popularly called Ccioma and the Afro gospel artiste Olatunji Opeyemi Yemi TPX. Much couldn't be done by the label last year due to its late introduction but Ccioma was able to get things rolling for the label with her reggae single Wonderful Love and her Calvary The Concert gathering.
If you don't know Tehilah Records then you must have heard about the Alabanza Concert. 2018 was indeed a big year for the label which houses Tim Ogboruoche, Chika 100% and Enkay as the latter two had one of their biggest number of appearances and ministrations. The biggest artiste from the artiste is obviously Enkay with her album and music concert The Bridge one of the most beautiful concerts in 2018. To crown it all her collaboration with international singer Kierra Sheard in her song salute makes her one of the few Nigerian gospel artiste who had collaborations with international acts in 2018. Much is still expected from the label in 2019.
12. Lakelight entertainment
is one big family with exceptional talents and passion in delivering multimedia services with excellence. STEVE CROWN is the founder and president of the organization.He is also a multi dimensional and inspirational gospel artiste.
is official label of Common Wealth of Zion Assembly (Coza) by senior pastor, Biodun Fatoyinbo in 2016. Their song "Rabababa-Eh" was well received due to its unusual message and approach. The group was created to produce mainstream music with a spiritual message. In October 2019, The Gratitude won the UK Gospel Touch Music Awards for the Choir/Group of the Year Category
Faithgane Record label is a lagos based christian lifestyle and entertainment company that nurtures, develop, and presents world class artistes.
The label currently has six top class artistes on its roster. Their names a are:
Omopraise,Nelsongz,Bernard Okoh , Pat Kingsley, Constance.
One of the biggest gospel producer in Nigeria Florocka spearhead the artistes under the Rockanation label as he is joined by son of Reverend Mrs Funke Felix Adejumo, Gbemiga and Helen Yawson. With Flo not really doing much in terms of music in 2018, Gbemiga steps up as he dropped songs to cover up for the label. Also the signing of Ghanaian rapper Esaias also gave a major boost for the label in 2018.
Are You Looking For Gospel Record labels in Nigeria, Top 10 Nigeria  Gospel Record labels  or best Gospel Record labels in Nigeria