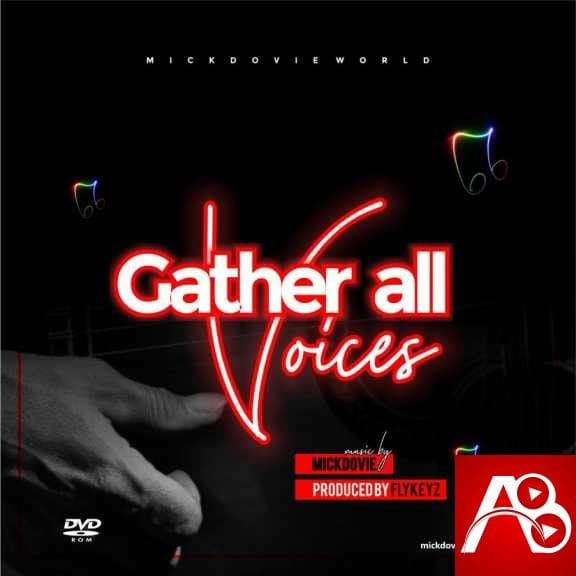 Gospel music artiste and Songwriter, Mickdovie releases a brand new single titled "Gather All Voice"
"Amidst all obvious and hidden difficulties and considering the recent situational variables around the world, we're expected to be sober and literally striving towards keeping things in place. I however believe against all odds we should never stop giving thanks to God hence, His word says "Give thanks in all circumstances; for this is God's will for you in Christ Jesus."  (1Thess 5:18).
In His Words: Apparently, I've got no other way to show gratitude to My MAKER, than to sing song of praise like KING DAVID did. More so, what inspired me more is to use this song to celebrate the GRACE OF GOD upon my life and the lives of the wonderful people around me.
Song produced by @flykeysondbeatz. Mickdovie's desire is for this song to bless the listeners souls and reminds them that it is good to "GIVE THANKS UNTO GOD FOR HE IS GOOD AND HIS MERCY ENDURETH FOREVER"
Download, Listen and Share!
Mickdovie – Gather All Voices
[ddownload id="13990″]
Lyrics
Mickdovie – Gather All Voices
God don do am again
C'mon/2ce
Preverse:
Everybody chante hallelujah
E don happen again and e hot like fire
I no send i no send o, cos no be them do am
So me i throwaway all Glory give the most high
And if you see me say i dey dance
Make you know say nah praise time.
Chorus:
Gather all voices
To praise Jehovah
Master of universe
Make it louder
Hallelujah, song of victory
Verse 2
Moro efo, moro amala
Motun fotisi ki oleje
Me i don serve your food come chop
Cos i believe say all this things you deserve
Little did i know
that all u ask is a mouth full of thanks
Leg full of dance like David danced
Heart with song of praise
Baba gba iyin gba ogo iwo lotosi
Gbogbo aye juba re, wonse cabiosi \2ce
Preverse
Chorus
Hook;
Ah ah hallelujah
I mean the song of victory
Are you still sleeping
Tell ur neighbour wakie wakie
Let the man let the woman
Let the children let the old
everybody sing it loud
Chorus:
Gather all voices…….
CONNECT:
Facebook & Instagram: mickdovie_world
Twitter: bamidele_love