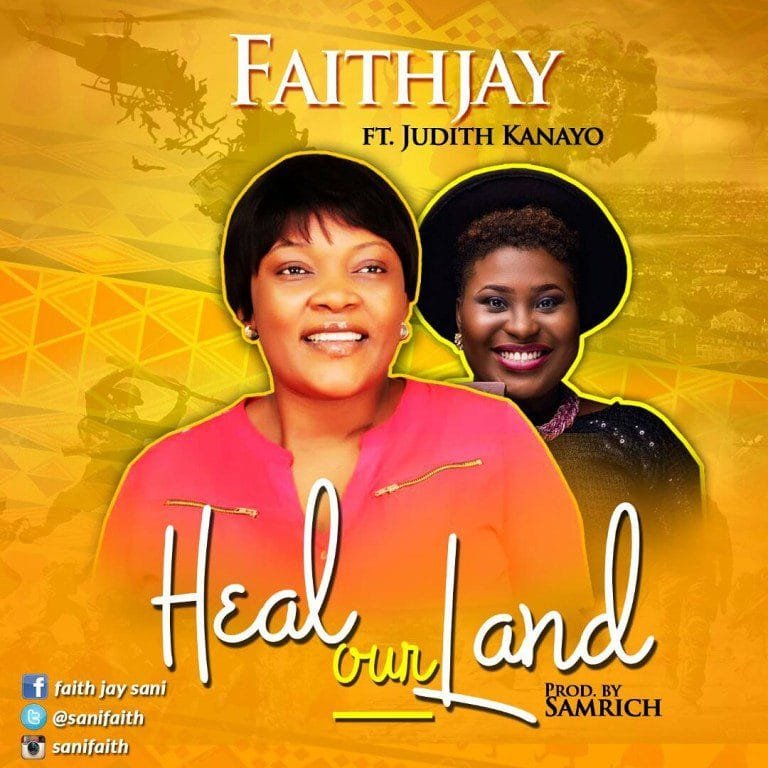 Here is a beautiful piece from sensational singer Faith Jay. The song contains a strong message for everyone who is carrying a burden in their heart.
"Heal our land is a song I got in the place of prayer seeking the face of God for the healing in various aspects of our lives.  Heal our land is a song that is blessing lives and at this very season of quarantine,  we all need God to heal our land.
According  to the book o
f 2cronicles 7:14 the bible says that "If my people who are called by my name shall humble themselves,and pray and seek my face, and turn from their wicked ways. Then I will hear from heaven and will forgive their sins and will heal their land "
Faith Sani was born into a Muslim family in the late 70s but met christ in the year 1999 where she joined the Rccg family and started her music journey in the choir. She has then been serving God in several parishes in the Rccg and she is still faithfully carrying out her assignment.
[ddownload id="12424″]
Faith Jay – Heal Our Land F Lyrics
Holy spirit we need you care
Oh Jesus we welcome you
Oh Jesus come take your place
Holy spirit take your place right now, my Jesus we need your touch today.
Heal the sick
Save the oppressed
Mend the broken heart
Release your power to break every chain
Heal the sick
Save the oppressed
Mend the broken heart
We need your power to break every chain
Chorus
Holy ghost /manifest
Spirit of God/manifest
Power of God/manifest
Heal our land today
Holy ghost/manifest
Spirit of God/manifest
We need you now/manifest
Heal our land today
Oh oh oh oh oh oh
Oh oh oh oh oh oh
Hey hey eee yeah
Like the day of Elijah
you destroy the gods of baal
And for Paul and silas
You broke the chains that held them bound
Power that breaks
power that saves
Unchangeable power
Same God back then
Same God right now
Heal the sick
Save the oppressed
Mend the broken heart
Send down your power to break every chain
Chorus
Holy ghost /manifest
Spirit of God/manifest
Power of God/manifest
Heal our land today
Holy ghost/manifest
Spirit of God/manifest
We need you now/manifest
Heal our land today
Vamp
We call you/ saviour saviour
We call you/saviour saviour
We call you/saviour
Heal our land today
We call you /Jesus Jesus
We call you /Jesus Jesus
We call you /Jesus
Heal our land today