Event
Event: Rccg Place Of Mercy, Zone2 L61 Present: Street Concert Theme: Take The Gospel To The Street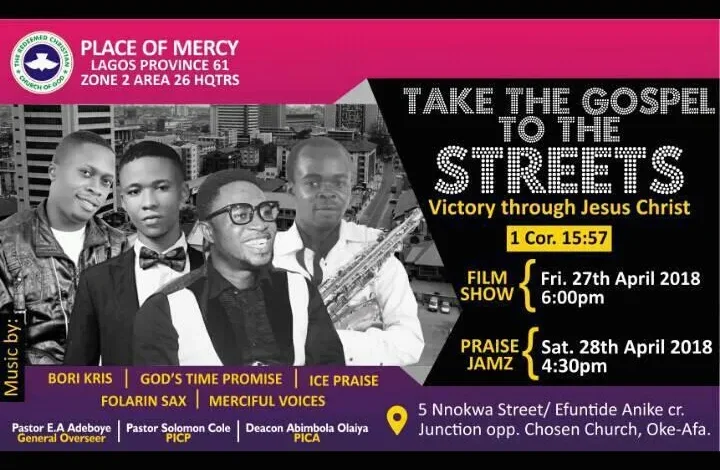 The Redeemed Christian Church Of God "Place Of Mercy" Zone2 L61
Present: Street Concert
Theme: Take The Gospel To The Street
Taking the Gospel to the streets is a commission
and a commandment for believers. Responding
obediently to the Commission and hitting the streets, we receive grace and power to fulfill the Lord's commands.
Rccg Place of Mercy Zone 2 Lagos Province 61 Present Street Concert: Theme: Take The Gospel To The Street Featuring
Ice Praise
GodsTime Promise
Bori Kris
Folarin Sax
Merciful Voice
Ministering Pastor Abimbola Olaiya
PICA.
Date 28th April 2018
Time: 04: 30
Venue: Nnokwa Street Efuntide Anike Cr. Junction opp chosen church oke-afa